Your ideal partner for customer relationships and the shipping of your products.
The Company
Just as the French radio show "Salut les copains" was enjoying its heydays in 1959 Abo Press was founded. More than a group of friends, it is a whole family who decided to bring together their skills to conquer the market of magazines home delivery. It is also at that same time that TV schedule magazines/televised press took off and that the major daily newspapers reached the peak of their glory.
Thus, in the 1970s, new services rapidly arose : subscription management and routing.
In 2005, we added marketing to the range of services we offer/we expanded our range of services by adding a marketing department.
Our expert knowledge of the market allows us to offer you high quality services while ensuring cost efficiency/fairly optimising costs.
---
In a nutshell...
Subscription management
Subscriber management, mailing capture and processing, receiving and managing clients' calls and emails, payments, SEPA direct debits.
Marketing and crossmedia
Design, creation and layout of mailings, e-mailings, reminders, newsletters, etc.
Email marketing strategy
Design and implementation of your email marketing strategy : customer loyalty, personal advice, newsletters, commercial actions targeting, reporting, etc.
Press routing
Shrink-wrapping, addressing, upgrading to new postal standards, file processing.
Solutions informatiques
File migration and processing, database creation, archival storage, data storage, statistical data/base.
Web and e-business
Creation of Showcase Sites and e-businesses, webservices, digital platforms, SEO, referencing, Google Adwords.
Shipping and logistical support
Multiple shipments, mail order, electronical postal deposit (DRP2, Destinéo, Publissimo), stock/inventory management.
Paquet Plus
Third-party inserts programme in France that offers a more targeted and efficient communication solution with more than 500 affiliated online sellers.
more...

A flexible, innovating and unique subscription concept : the press package. With KAD-Magazines, it is so much easier.
More info...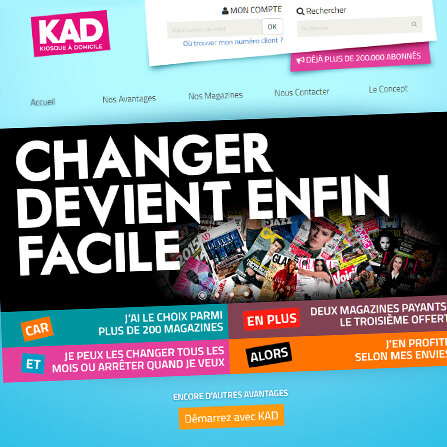 KAD-Magazines
To be as close as possible to our customers and better identify theirs needs, our 80 representatives are traveling the roads of France to meet and enlarge our customer base.
Our product : the press package, A flexible, innovating and unique concept
Do not hesitate Contact us to add your magazine to our product rangeBoost your sales.
Visit KAD-Magazines
Edit your press package
Holiday shipment
Monthly payment
Press magazines subscription with internationnal shipment. Top magazines at low prices.
More info...
MAG24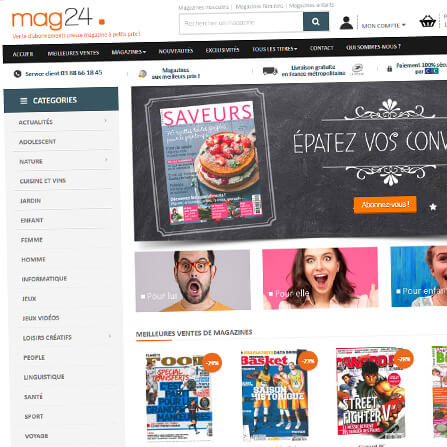 mag24 Store
A store specialized to traditionnal ribing
with worlwide shipment !
Wish for more visibility for your magazine ? Contact us!
Visit mag24
attractive prices
3,6 and 12 months subscriptions
Internationnal delivery
Many

satisfied

happy

pleased

customers.
Some references:








---

Reactivity

Quality

Performance